One of the best ways to learn more about faith and to get to know other people from the Church family is to join a house group. We have several around the area our Churches cover. Some are weekly and some are fortnightly. They involve spending time with each other studying the Bible and praying together, talking about things that are important to us and, hopefully, food and drink too. 
We want to be a Church where people grow in knowledge of God and his love and increase in confidence in sharing that love with other people. A good house group can be a really supportive network for when things in life are going well and especially when they are not.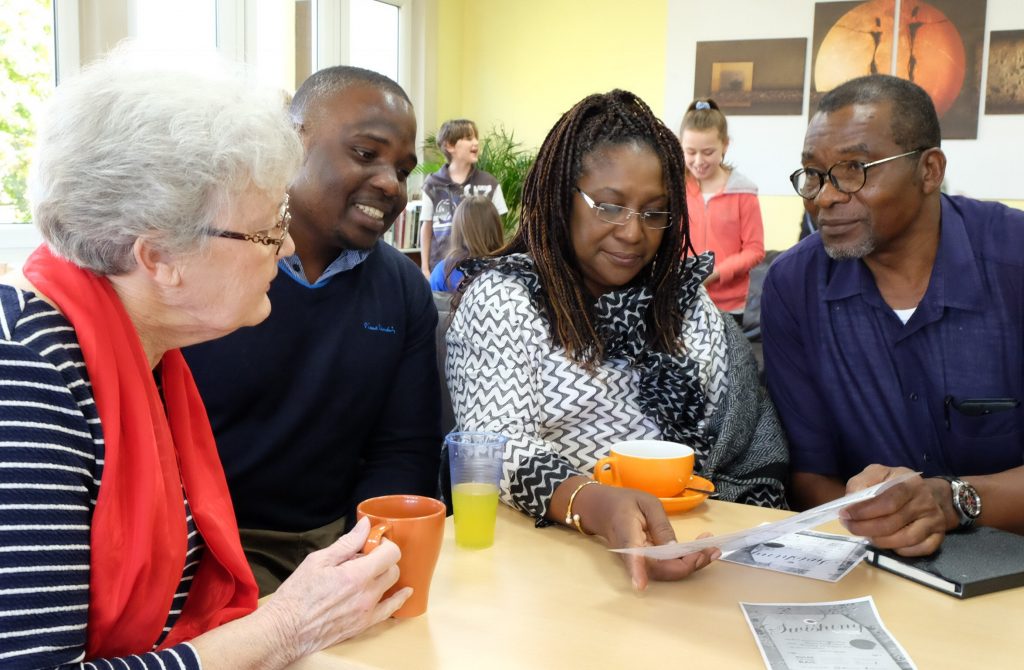 If you are interested in joining a house group, please contact the Church Office who will arrange for this to be possible for you.
In January 2022 we are spending time looking at some of the key moments in the life of Jesus. Click on the links below to download some questions to (hopefully) help you to prayerfully reflect on the Bible readings from the Gospels that we will be looking at together on Sundays this month. This is also our House Group material for the month, too.
During the summer of 2021 we are following the Church of England's Lectionary for our Bible readings in services and our material for groups. Click on the titles below to download some questions and prompts for thought and prayer.
Lent 2021: Studies in Hebrews
During the season of Lent 2021 we will be following a series of studies in the Book of Hebrews, provided for us and many churches in the region by Bishop Donald, Bishop of Peterborough. You can download the series in video or audio format by using the table below.
These files are best downloaded on to a desktop computer or laptop rather than a mobile phone or tablet.
There is a study guide for the series, which you can download here
Studies in the Book of Psalms for Individuals and Groups Autumn 2020
Between September and November 2020, we will be spending time each week in Services and in our House Groups looking at various themes in the Book of Psalms. Within the Psalms we find so much of life, faith, love, hope, fear, joy, anger and plenty more. Most of all, we find the key elements of worship & praise of God and trust in Him.  Each week we will look at a different aspect of faith and Christian life through the lens of one or more Psalm. If you would like to follow along as we study and pray, either on your own or in a group, here are the first four documents. More will be added as materials are developed.
Psalm 95 (2): Hard and Soft Hearts
Psalm 145: God's Greatness & Goodness
Studies in the Book of Acts for Individuals and Groups Summer 2020
During the summer of 2020 we are taking the opportunity of having to live and worship together differently during the time of Covid-19 to ask God to help us re-imagine what it means to be a family of faith focused on the things of the Kingdom. To help us do this we are working our way through the Book of Acts together on Sundays and during the week. In the table below, you can see the readings and themes we will be following in June and July 2020. For each week there will be questions and activities which you can either work through on your own or as part of a house group. In these especially challenging times, we would encourage you to join a group, for fellowship, support, prayer and to help us all learn together.
| | |
| --- | --- |
| Date | Readings |
| June 7th 2020 | Acts 2:22-41 – Jesus as Messiah |
| June 14th 2020 | Acts 2:42-47 – The First Church |
| June 21st 2020 | Acts 3:1-10 – The Power of the Name of Jesus |
| June 28th 2020 | Acts 4:1-22 – Peter and John on trial |
| July 5th 2020 | Acts 4:23-31 – The Believers Pray |
| July 12th 2020 | Acts 4:32-36 – Sharing What We Have to Give |
| July 19th 2020 | Acts 5:1-11 – Don't Hold On to What We Have |
| July 26th 2020 | Acts 5:12-16 – Healing In the Name of Jesus |
Questions for Individual and Group Reflection
 Here are some questions for Individual and Group Study for our journey through Acts. Click on the  'Acts' reference to download each passage's study material