Prayer is central to who we are as Christians and what we do as a Church. We have a website for you to send in prayer requests. If you would like to use it, please visit
We will be delighted to pray with you and for you.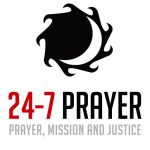 Over the weekend of May 29th-31st 2020 we are inviting you to pray. We're asking you to pray around 3 particular areas:
Firstly, simply spend time with God. Not asking for anything particular, not offering to do anything particular for God. Simply spend time with Him. Building our relationship with Him through the spending of time is a valuable thing to do.
Secondly, pray that the tide would turn in the Coronavirus pandemic, not just here, but around the world.
Thirdly, pray for God's leading and guiding in how we can be a family of faith both now and beyond the time of the pandemic. We want to love and serve our community in the best way possible and see people come to know Jesus. We need God's help with that.
You can sign up for an hour (or more) over the weekend by visiting
The Emmanuel Prayer Weekend Calendar
If you want some help with how topiary for the pandemic, here's a helpful guide
An Hour of Prayer for the Coronavirus Pandemic